Monitor ASP.NET Core Easily with Loupe
Loupe makes it easy to monitor what's happening inside your ASP.NET Core Web application in a way that can't be seen from the outside by Google Analytics or log file analyzers. In addition to the extensive session data it collects for any .NET app, Loupe integrates with the ASP.NET Core request pipeline so it can capture performance and exception information unique to ASP.NET.
Record Exceptions in Context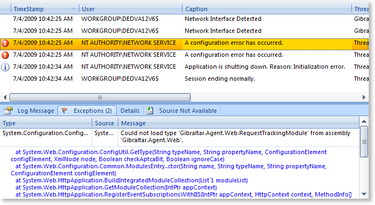 When exceptions occur, you want to be able to address them quickly and completely. Loupe captures details of any unhandled exception and helps you categorize and analyze them. You can easily log additional exceptions and data that you capture and handle before they get to ASP.NET to make sure that even if your web site was able to recover from the problem you know about it.
These errors are recorded along with user information and a range of ASP.NET events so you can see the context they occurred in. Perhaps they only happen when two users hit the site after it has been recycled or maybe they're a symptom of a permissions problem. We capture a range of ASP.NET events to make sure you can see the whole picture, easily, and in production.
Capture All the Logs
ASP.NET Core has extensive logging built in - leveraging the common ILogger infrastructure. Loupe plugs right in as a logging provider to make it easy to bring all of your logging into one place - whether it's built into a .NET Core/.NET 6 library you're using, your own logging to ILogger, or logged directly to Loupe. Everything is captured and put in order so you can see what happened - step by step - in your application.
The Loupe ASP.NET Core Agent also supports client-side logging. We provide both a general-purpose client for JavaScript & TypeScript and a specific client for angular applications. The agent allows for JavaScript logging to a server you can access instead of to your users' browser, where you will never see them. Additionally, it means you can use the same error triage process for all the errors generated by your application, no matter where they appear.
Once the Loupe Agent captures all of the logs, they can be sent to a Loupe Server where your whole team can view them online, analyze them for unique errors that should be fixed, and pull them down to their desktop to help with debugging difficult problems.
Relate Errors and Events to Your User Database
Because Loupe understands ASP.NET, it knows that not everything happens under a generic service account. When you use an authentication provider for ASP.NET Loupe is able to relate errors and other key session events and activities to the real login that the page was being processed for. This way when trying to understand why Bob@somecompany.com is having trouble on your site you aren't guessing which events relate to him.
Keep Your Whole Team In the Loop

Loupe integrates with Slack, Microsoft Teams, and other messaging systems so your team can know right away when a new error is occurring or a customer is having an issue. Set up your alerts in one place and be confident you'll know when there's a problem before anyone else. Better yet, you'll have the information you need to fix it right the first time!