Track Adoption of Versions
Stay on top of your releases
Loupe understands DevOps concepts such as release types and environments so it can organize information meaningfully and provide big picture insights on the health of your .NET or Java applications.
For each version of your application, you can track information on the release type, the promotion level, captions, and release notes. This information simplifies monitoring issues accurately over different releases and ensures that Loupe's version tracking will work with your organization's workflow.
Graph user adoption for your applications over time
It is easy to track version adoption through Loupe. Loupe will keep you informed on the total ratio of users on the new build and also identify which build each individual user is running (within the constraints of your privacy policy). With Loupe you can quickly browse who is using the current version of your company's software and when they first adopted the software. Beyond that, figure out which users no longer use the software or are not on the most recent release. Loupe will include details on the last version each user used or which older release they currently run.
Want to get the big picture? You can graph user adoption over time right in Loupe by quantity of sessions or individual computers. Further refine your data with smart filtering and grouping for specific time periods, versions, and other parameters.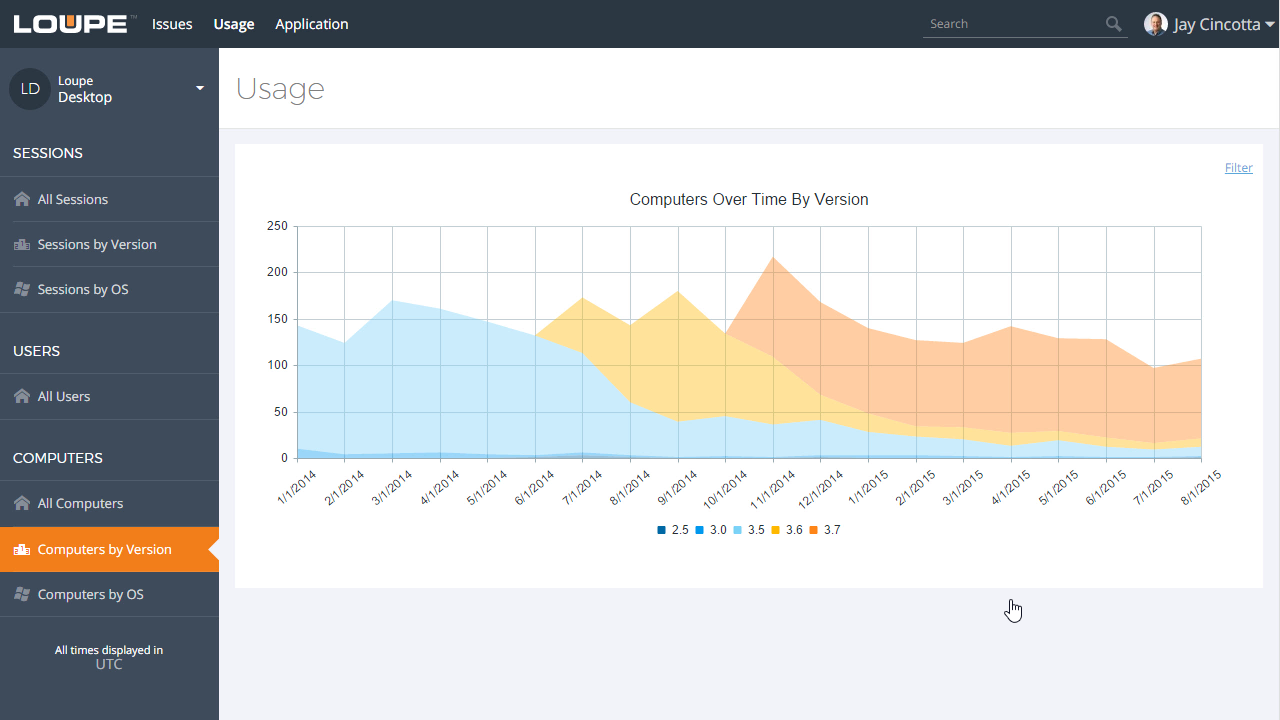 Improve your user adoption with Loupe
Loupe's version intelligence allows you to not only track user adoption but provides you the tools needed to keep track of problems across versions. Loupe will keep track of which version of your application first caused a problem, when it was resolved, and if it ever returns. Loupe combines the big picture of user adoption tracking with the details needed to ensure your company's releases are constantly improving.
This is just one example of how Loupe lets you leverage your application telemetry in new ways.