How Loupe Helps Product Managers
Know the health of your product
It can be hard to decide when to ship the next release of your product. The shiny new interface of your next build can blind a team to the real problems of the product. Or maybe they are stuck chasing perfection, delaying releases along the way. Even deciding when a hotfix is appropriate can be a difficult decision. While Loupe cannot make those decisions for you, it will provide you the quantitative data necessary to make those decisions.
Loupe understands DevOps concepts such as release types and environments so that it can organize information meaningfully and provide big picture insights into application health. Loupe shows you the number of new, resolved, and open issues in your application between the previous, current, and future build of your application. With easy access to this information, you will have a better sense of how your applications' compare between versions and get a good sense of when your next release is actually ready to go live.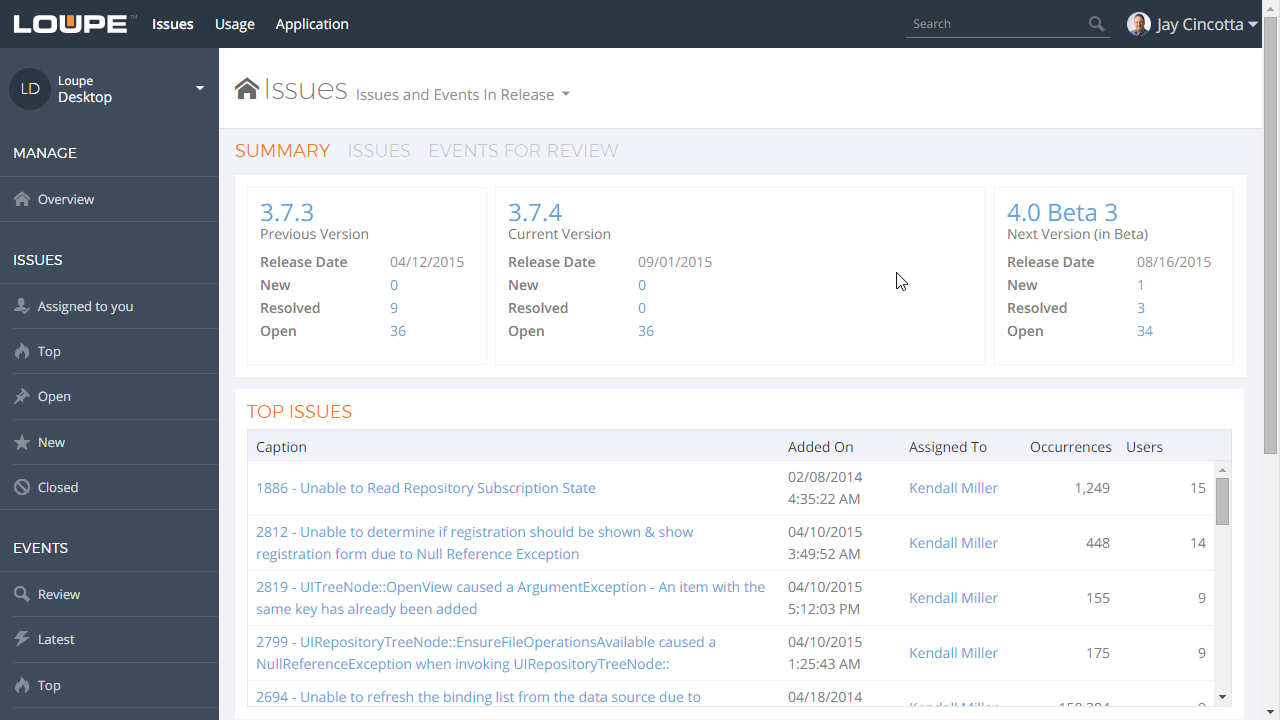 Manage your team
You are responsible for your application nd making sure that it is as polished as possible. But you are also responsible to your team and need to make sure none of your developers get buried under their workload. Loupe has built in tools to help you manage the workload.
Loupe makes it easy to look over the top issues for your applications and see which of your team members is directly responsible for each one. This way, when a new issue needs to be resolved, you can effectively distribute the workload.
Loupe is not going to build new features for you, but it will help you balance your team's schedule and make sure you and your team have the time necessary to solve complex problems.
Prioritize your users
How users interact with the product is valuable information that is hard to quantify. Knowing your users wants, what they need, and what their problems are is critical to making good decisions for your product. But this is hard to know exclusively from user feedback forms that may or may not get filled out.
Loupe allows you to get a different look at how your users interact with the product. You can track broad trends such as how user adoption of the latest release has changed over time (thanks to Loupe version awareness). But loupe also has the capability to look at individual users and view each session they have had. From your whole user base, to the single most important user at your most important client, you can see what software and what errors your users interact with the most.
With Loupe, you will not only know your users better, but you will have the quantitative data you need to let your team know your users as well. Need to prioritize a hotfix? Show the Dev team the exact number of sessions that ran into a specific error. Need to persuade a stakeholder that your application no longer needs to support a certain OS? Show them a chart with the exact number of users running your application, broken down by operating system.
Loupe helps you understand your users and make decisions to prioritize their needs first.